HEMP PALE ALE HOPS INTO SPRING ALL YEAR-ROUND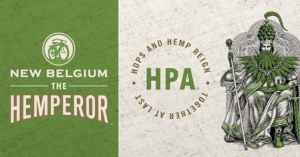 Ok, so hemp beer is nothing new to Colorado. After all, craft beer brewers have been profoundly known for their ingenuity, creative and scientific skills that pair with their collaborative spirit to produce great taste and awesome beer.  However, The Hemperor Pale Ale IS new. As pale ales go, we know to expect hoppy and we expect an ABV to be 5 to 7%. New Belgium delivered on both expectations. So, what's new about?
New Belgium Brewery served up their new year-round beer at the release party March 29 in Fort Collins. The Hemperor is a New style of IPA — Hemp Pale Ale, HPA®.  You can expect hemp terpene, you know—the stuff that makes cannabis fragrant, to come forward in this beer.  Hops and hemp hearts crafted together make it new, certainly to the New Belgium Brewery family of Voodoo Rangers beers and to Northern Colorado.  "Not to mention this beer is extremely dank!", meaning high-quality and yes, a little stinky – "herbal cannabis in a big way (does not contain THC)". I've just got to say though that "DANK" is not my word, but NBB used it and I get why this adjective describes their HPA. The terpenes along with the hops give The Hemperor HPA its nose and bitter finish, after all, it is an IPA with a twist. The urban dictionary meaning of dank can be used to best describe The Hemperor HPA's flavor and aroma as potent.
"Terpenes are fragrant oils that give cannabis its aromatic diversity".
Weighing in at 7% ABV, The Hemperor HPA will make an impression. Don't worry, no THC is involved, just great craft brewing that has invented a new year-round pale ale.
"Herbal cannabis in a big way (does not contain THC)"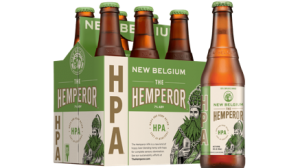 This new release will be available around town. Check the locator map for taps in your area.
Style: IPA (w/ Hemp)
Hops: Nugget, Cascade, HBC 522, Simcoe
Malts: Pale, White Wheat, Midnight Wheat
Yeast: Ale
Availability: 12oz Bottles, Draft.
Debut: April 2018
7% ABV
Noelle Maestas, a Colorado native, earned a Bachelor of Arts degree in Communication from Regis University in Denver. By day, she is a content creator and marketing geek who has been contributing to and editing various marketing blogs and social media content for more than 5 years. Having an entrepreneurial spirit, she is also the creator/editor of her own fitness blog because it was a good idea at the time. Living in Fort Collins for over 20 years, beer has been the muse that inspires her to savor the best that Northern Colorado has to offer. Together with her husband, who is a GIS blogger and a beer-loving Canadian, they have become a recognized couple in some of Fort Collins finest beer establishments with several like-minded friends. When she isn't riding her bike through Old Town, Noelle can be found volunteering at beer festivals in Fort Collins.