10 Hidden Gems in Colorado
1. Hanging Lake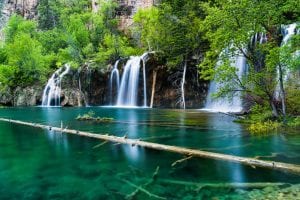 The steep hike to Hanging Lake in Glenwood Springs is not for the faint of heart–signs leading up to the hike warn that it is steep and difficult if you are not used to the altitude. The view you get at the end, however, is 100% worth it. Hanging Lake has been the subject of some controversy over the years as tourists affect the natural ecosystem by going in the water or climbing on the wood running across, so be sure to be respectful.
2. St. Mary's Glacier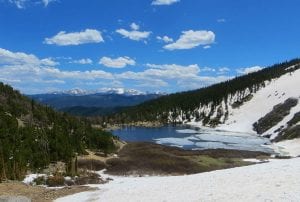 St. Mary's Glacier (technically a snowfield) is a patch of snow that stays snow all year round. The glacier is located in the Clear Creek Ranger District of the Arapaho National Forest. Follow the northeast shore of St. Mary's Lake to reach the glacier, where you'll then be able to hike, ski, climb, and sled.
3. Ice Castles
The Ice Castles in Dillon, Colorado, come around every year in the winter as a beautiful, blue spectacle. "The easiest part is to describe what it's like to be in them. And that's kind of like being inside a glacier or a Narnia-type scene where you have towers and tunnels and archways and everything's frozen" says artist Brent Christensen.
4. Devil's Causeway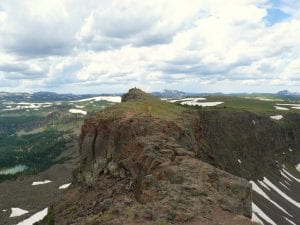 Devils' Causeway is a steep, narrow hike with 60 to 80 foot cliffs on either edge of the natural bridge. If you have any fear of heights, or if there is any inclement weather, it's best not to cross, but for the adventure lovers this is a once-in-a-lifetime opportunity to experience the beauty of Colorado in a whole new way.
5. Manitou Springs Incline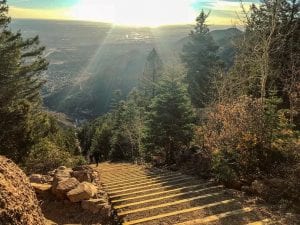 The Manitou Springs Incline gains nearly 2,000 feet in elevation in a mere 1 mile length. This is a unique hike originally built as a cable car to carry materials to build pipelines on Pikes Peak. The track was eventually removed after damage, but the railroad ties remained, resulting in this steep hike.
6. Bishop Castle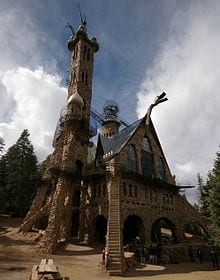 Bishop Castle is located southwest of Pueblo and is now an unusual roadside attraction. Jim Bishop, the builder and owner of the castle, first bought the land when he was 15 with the intention of building a cottage on it. As he began building, he noticed that the structure looked castle-like, and Bishop Castle was born. Roadside America warns that owner Jim Bishop is "a tough-talking man with strong, extreme beliefs, and sometimes he expresses them bluntly and loudly. If you and your children want to avoid potentially offensive rants (involving politics and race), you may want to steer clear."
7. Cheyenne Mountain Zoo
Cheyenne Mountain Zoo is America's only mountain zoo and is consistently rated highly across the nation as one of the best zoos. The zoo is best known for its giraffe herd, where they have had over 200 giraffes (including one that is pregnant right now!) and you can feed them.
8. International Church of Cannabis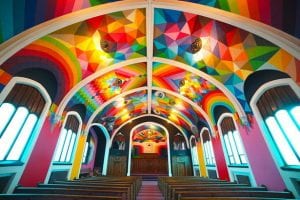 Only in Colorado: The International Church of Cannabis. "Elevationists" converted this old church into a colorful, spiritual place to "use the sacred flower to reveal the best version of self, discover a creative voice and enrich their community with the fruits of that creativity." The church is open Monday through Thursday from 1pm-1:45pm, and Friday, Saturday & Sunday from Noon-5:45pm for the BEYOND Experience.
9. Lost Creek Wilderness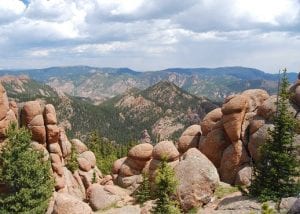 Situated withing Pike National Forest, Lost Creek Wilderness is a scenic area that is good for hikes in both summer and winter due to its close proximity to Denver. The scenic area has an underground stream that appears to disappear and reappear in various points more than nine times across the area.
10. Last Dollar Road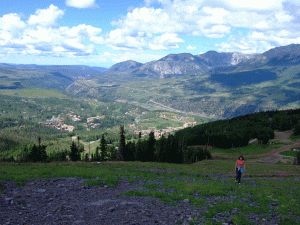 A hidden dirt road through the low valley before the San Juan mountain opens up to breathtaking views of Wilson Peak. Come during different times of the year for completely different views–during the summer for lush greenery, the spring for colorful purples of wildflowers, the fall for deep oranges, reds, and yellows of trees, and the winter for snowpeaked mountains.
Kaylee was raised (but not *technically* born) in Colorado. She graduated from Regis University with a bachelor of arts in English. During her time at Regis she worked as a teaching assistant in a freshman classroom setting and in the writing center helping students on a variety of topics. While there, she discovered Cura Personalis, or care for the entire person, leading to her love of feminism and desire for equal rights for all. Kaylee spends her time reading, writing, and debating.