Rare Italian Restaurant Offers Rare Experience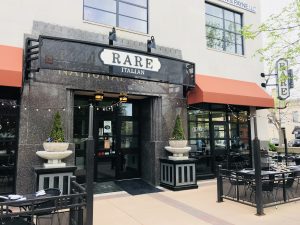 Rare Italian Restaurant sits in a prime Old Town location, on the corner of Mountain and College Avenue.  The restaurant resides in the building that once held Poudre Valley National Bank. The clean modern design of the building combined with the remnants of the past draw in hungry patrons as they pass by while strolling the streets of Old Town.
Rare's website renders heavy claims of making the best steaks and Italian cuisine in the world. Their house-aged steaks hang in plain sight in the restaurant, which speaks to the confidence they have in their establishment. The inside is simple, modern and clean with low intimate lighting.
I, of course, started with a drink. The past few weeks I had been craving ice cream and cold treats, so when I saw the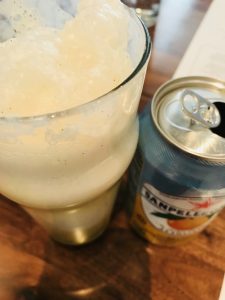 Dreamsicle on the menu I knew it was the drink for me. The Dreamsicle is a cocktail with Limoncello, San Pellergrino Orange, and vanilla gelato. It was served in float fashion with the Limoncello and San Pellergrino poured over scoops of gelato. The gelato was creamy and gave me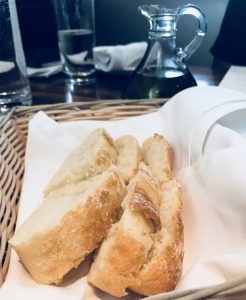 the sweet fix I craved. The citrus notes mixed well with the vanilla gelato.
We were given a bread basket and extra virgin olive oil to snack on while they prepared our appetizer. The appetizer was Tomato Arancini, crispy fried tomato risotto balls stuffed with mozzarella cheese. The cheesy treat was what our waiter called, "Mozzarella Sticks for Adults." The risotto coating was crunchy but not overcooked. It served as a good substitute for regular fried breading, because it didn't hold onto as much oil and grease. The tomato sauce they sat in tasted very organic.
Our dinner was from the Spring Dinner Menu. Rare changes their menu every season to accommodate their commitment to fresh, seasonal ingredients. I ordered the Lamb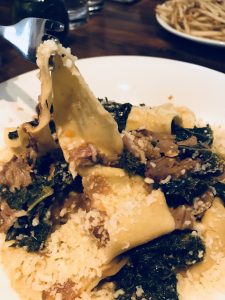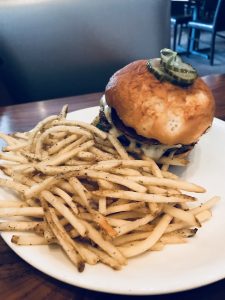 Pappardelle. Lamb Pappardelle had braised Colorado lamb shoulder, kale, soffritto, lamb brood, and parmigiano-reggiano. The lamb was delicious and softly pulled apart with each bite. The noodles held a nice garlic, and parmesan taste. The kale created a nice fresh breakbetween the heaviness of the noodles and lamb. Chavez went simple and ordered the Rare Burger, made with a six-ounce dry-aged house-ground burger, gluten-free bun (potato-bun, non-gluten free option), house-made mayo, arugula, tomato, and red onion. He thought the burger was good, but was slightly overcooked for his taste and had a lot of char covering the outside.  His fries were slightly over-seasoned with black pepper.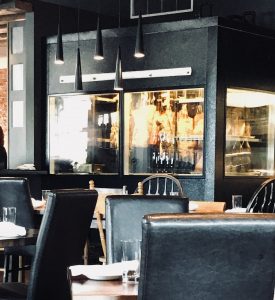 With the bread basket, cocktail, appetizer, and entrée, I easily got full. I asked for my remaining pasta to be put in a to-go box, and we wrapped up our meal. The food seemed to get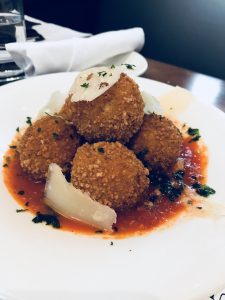 even better when I warmed up the leftovers. Although Chavez's meal was not as satisfactory this time, our other meals at Rare have been very good. I personally feel that the food at Rare Italian is rare to find in Colorado, especially when it comes to good Italian food. I look forward to returning when I have a sweet-tooth again.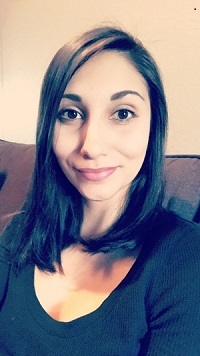 Marisa Olivas is a writer living in Fort Collins, Colorado. Marisa enjoys traveling, trying new foods, reading, writing poetry, and a good cup of coffee. Marisa's travels have taken her to various places in the United States, European countries, and a small Western African country called The Gambia. These travels have given Marisa invaluable experiences and created an opened mind to the world around her. She attended Colorado State University and obtained a degree in Journalism and Media Communications and Political Science. She hopes in the future to use both areas of studies to help tell people's stories through humanitarian reporting and shed light on injustices in our society.