Apologies to Ian Desmond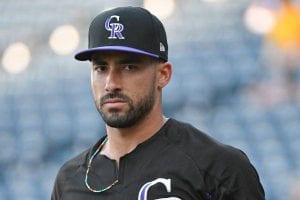 The Colorado Rockies have put on an offensive show lately.  The team scored 48 runs in a recent four-game series against the San Diego Padres as Charlie Blackmon set a modern-day record with 15 hits, Nolan Arenado is hitting .317 with 19 HRs and 62 RBIs, Trevor Story has 17 dingers, David Dahl is hitting .320, and Daniel Murphy has knocked in 40 runs.
Generally, this is the part of the article in which I give praise to many, then ridicule Ian Desmond.  I've been rough on Desmond, and rightly so.  Signed to five-year/$70 million contract back in 2017, Desmond has been nothing short of awful since he put on the purple uniform.
But as I sit here today, Desmond is hitting .279 with 11 HRs, 41 RBIs, and 20 doubles.  He's been the sparkplug to the Rockies offensive machine, and I owe him a well-deserved apology.
Here are the top ten insults I've written about Ian Desmond, and for this, I am sorry.
I once said that the last name, Desmond, was derived from the French language and was originally Des Mond. Which translated means, of the miss.
After being placed on Injured Reserve, I wrote that Desmond should find a good chiropractor, to help him with that continuous slump.
In one article I suggested that the Mendoza Line, a baseball vernacular named after Mario Mendoza symbolizing futility at the plate (Mendoza had a .215 career average), be changed to the Desmond Line. Desmond was hitting .220 at the time, five points higher than Mendoza, but Mendoza never made $15 million a season.
After a poor series against the Brewers, I referred to Desmond as Ian Des Moines. Stating that he should be in AAA somewhere in Iowa, rather than the big leagues.
I also gave Desmond the nickname of Bausch & Lomb, implying he struggles with contact.
Later that season, I changed his nickname to Donut Desmond, because he leaves a big hole in the middle of our lineup.
Joking about Desmond's contract in which the Rockies were hoping to get the all-star that hit 22 HRs, stole 20 bases, and scored 107 runs for the Texas Rangers, not the player that hit only 7 HRs in an injury plagued 2017 and batted .236 last season for the Rockies. I said the deal worked out so poorly that you would have thought Colorado bought Desmond sight unseen from Craigslist.
I noted that it was fitting that his first name was Ian, because Ian never gonna get to first base.
Inappropriately, I once wrote – Don't call him Trojan, because he's protecting nobody in that lineup.
And just recently, when writing a piece on great Rockies players alphabetically, I suggested that Desmond's name should be listed under the letter O instead of D, because every time I look him up in the box score he has gone 0 for 4.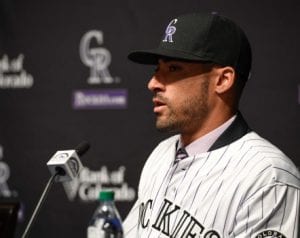 Now, I'm not saying that Desmond will ever be worth the ridiculous contract they gave him.  And I'm not saying that we wouldn't trade Desmond and his contract for anyone willing to pay him, any phone that rings, any six-pack of beer offered.  But at .279 and 41 RBIs, Desmond has finally earned his paycheck, the respect of the fans, and my apologies.
Images via numberfire.com, mlbtraderumors.com, denverpost.com, bleacherreport.com, fantasyalarm.com
Alan Tapley is an educator, author, and blogger who has lived just outside of Boulder for the last twenty years.  His published work includes two novels, two children's books, a series of cartoons in the Minneapolis Star-Tribune, and multiple sports related articles. His love for family and the state of Colorado is only matched by one thing, his passion for sports.  The first baseball game he ever attended was at Wrigley Field, before there were lights.  At the final Bronco game at the old Mile High, he allegedly cut out a piece of his seat in the South stands.  But regardless of being here for the Avalanche's last Stanley Cup, the Rockies only World Series appearance, and all the Broncos' Super Bowl Victories, his wife never fails to remind him that he wasn't at the University of Colorado in 1990, like she was.  The year the Buffs football team won the National Championship